Another tune from 1995. This jig was written for my girlfriend at the time, Lisa Cronin of Tralee, County Kerry, Ireland. Like many young traditional musicians I had discovered syncopation and started to incorporate it into some of my own tunes. I thought I was being modern and contemporary at the time but syncopation actually has a long history in border piping. As Matt Seattle points out in the introduction to his great book of tunes 'The Border Bagpipe Book' (Dragonfly Music, 1993), "Syncopation, which is now being introduced as a kind of modernism into Highland piping, was almost certainly present in Border piping three hundred years ago."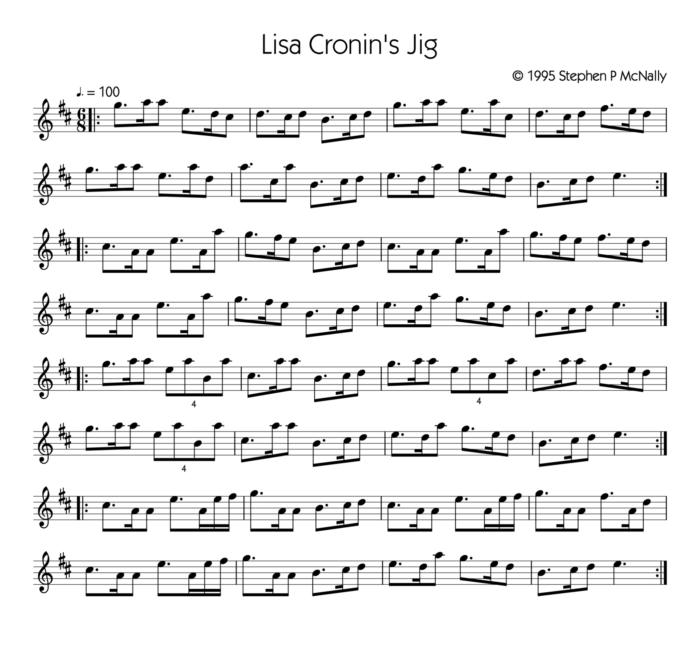 I play the tune with quite a heavy swing so have added it to the notation.
---
I use the excellent, open-source software MuseScore for final score engraving. You can upload your tunes to musescore.com and then embed the score in your own site.
Lisa Cronin's Jig by S P McNally by bagpie
---
Below is the tune in ABC Notation. ABC is a great way to share simple, single staff notation and is popular amongst traditional musicians. You can learn about ABC notation here and I recommend EasyABC to convert the tunes into standard notation, for editing and playback (although a fully working version isn't yet available for macOS Catalina or later).
X:5
T:Lisa Cronin's Jig
M:6/8
L:1/8
Q:3/8=100
C:© 1995 S P McNally
K:AMix
|: g>aa e>dc | d>cd B>cd | g>aa e>ac | d>cd f>ed |
g>aa e>ad | a>ca B>cd | e>da g>ed | B>cd e3 😐
|: c>AA e>Aa | g>fe B>cd | c>AA e>Aa | g>fe f>ed |
c>AA e>Aa|g>fe B>cd|e>da g>ed|B>cd e3:|
|: g>aa (4eaBa | c>aa B>cd | g>aa (4eaca | d>aa f>ed |
g>aa (4eaBa | c>aa B>cd | e>da g>ed | B>cd e3 😐
|: c>AA e>Ae/2f/2 | g>AA B>cd | c>AA e>Ae/2f/2 | g>AA f>Ad |
c>AA e>Ae/2f/2 | g>AA B>cd | e>da g>ed | B>cd e3 😐