---
With this being my eleventh carnival trip I've learnt that it is not unusual when travelling in Europe at this time of year to stumble serendipitously across some sort of carnival event. From Kölner Karneval parties in Cologne to Pust parades in Ljubljana we've been lucky to have had a number of unplanned carnival experiences. When we arrived in Bludenz our friend Doris told us of a carnival parade taking place the following day in the nearby town of Feldkirch which sits on the border with Liechtenstein. Of course, we jumped at the opportunity to attend.
We took the train but with Feldkirch being only a 20 minute journey away there was no point wasting a day of our Interrail pass on the cheap ticket. The train was busy with carnival goers, some in costume, and we arrived promptly in Feldkirch. The town was already bustling so we wandered around a little and found ourselves a spot at the side of a narrow street to get a good view of the parade.
---
---
The parade consisted of participants familiar to any regular carnival goer such as dignitaries in their finery, satirical floats pulled by large tractors and numerous marching bands. There were two prominent styles of carnival group in the parade that were of interest to me and are very particular to Swabian-Alemannic carnival. The first were marching bands know as Guggenmusik. These are brass and percussion groups, each with an elaborate costume and often led by one or more percussionist with a drum set on wheels. The music and grooves are fairly simple but uptempo and catchy, played with energy and lots of movement, clearly designed as party music. Seeing them in the parade was great but I imagine being at an event where you can mingle, drink and dance with them would be a good experience.
---
---
The second and most interesting type of participant in the parade were the many groups wearing wooden masks. These elaborately carved masks are worn by Fools' Guilds and each guild has a different style of mask and costume. Amongst the groups we saw were witches, fools, terrifying devils and 'green men'. The masks are often very old, handed down from parent to child over generations. The origin of the mask wearing would be similar to other parts of Europe: as a disguise when behaving in ways unacceptable at other times of the year and to ritualistically chase away the winter and welcome the spring.
---
---
There were other carnival groups in the parade, some wearing even more elaborate masks, including Krampus style characters which are more associated with Christmas traditions. With typical Germanic efficiency, the parade was followed by a team of street cleaners and disassemblers who promptly removed all evidence of the carnival parade having taken place, a little different from the public merry-making that takes pace at other carnivals we have attended (although to be fair to them, this was more than a week before Fat Tuesday, maybe they become a little wilder then).
---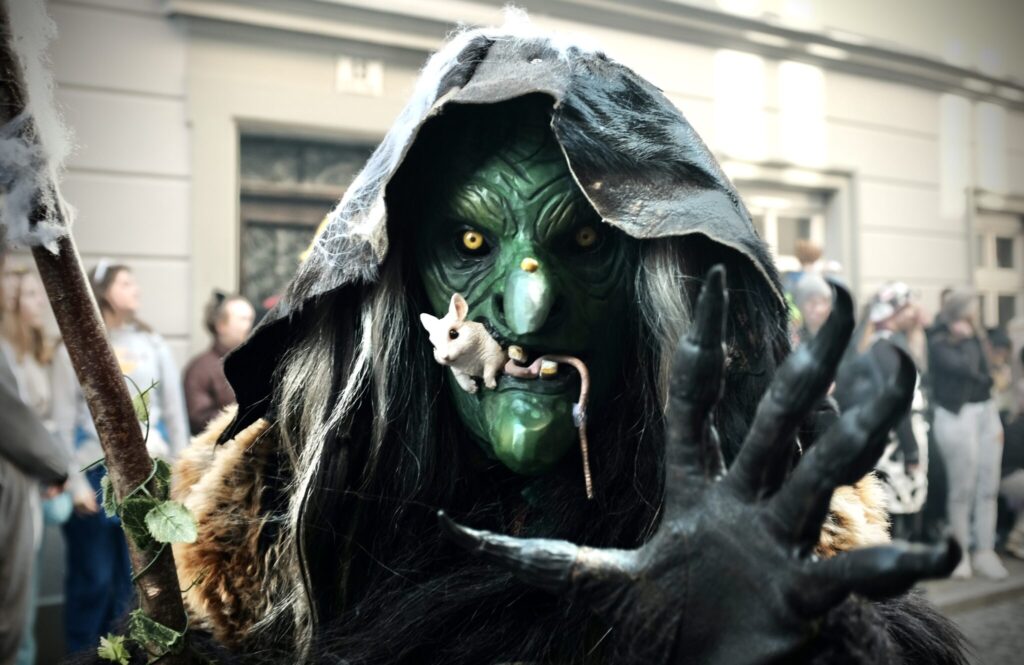 ---
After the parade we made our way to Schattenburg, Feldkirch's hilltop castle, to eat at its restaurant which is famous for serving enormous schnitzels. Dining in a 13th century castle was a fitting end to a fine day, all that remained was the train journey back to Bludenz with Doris and an early night to prepare for the long day ahead.
---
---